Design and connected console table Plug&Pied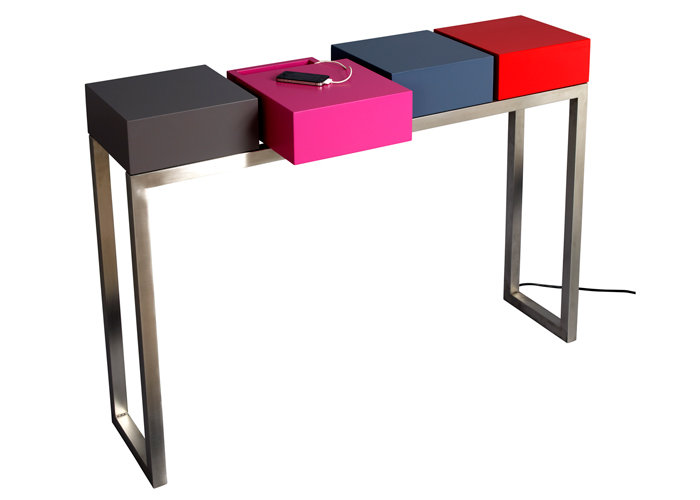 designed by
Sandrine Reverseau

In these times of mobility and the fear of dead batteries, no longer live with the jumble of wires and piles of chargers at home and in the office!
The new design and connected console Plug&Pied has been devised to be an aesthetic piece of furniture (almost classical in the tradition of occasional furniture) and adapted to our way of life in the 21st century: its drawers are equipped with electric plugs or USB plugs linked to the network by a single cable hidden in a leg base.  Plug in mobile devices and store wiring in the Plug&Pied console's drawers, permanently linked to the network by a single cable, the console recharges appliances. For contracts customers, Plug&Pied is ideal in a hotel bedroom or meeting room; for individuals its ideal location is the entrance or hallway.
The connected console Plug&Pied : custom made dimensions, materials, colours and finishes.
Dimensions with 2, 3, 4, 5 or 6 cubes, 30cm depth, deaper size of 45cm depth. Bespoke type of cubes drawers or closed. Bespoke finishes and colours (see at the bottom of the page).
Electrical equipement : Compatible with all electrical standard, USB. Maximum total power 1500 watts.
Realisations : all our console tables Plug&Pied are custom made, so that they all are different. See the realisations for our clients, residential, contracts and offices in "Réalisations".
Price of the piece Plug&Pied with 3 cubes from 1 668€ TTC
The connected console Plug&Pied is also available in a decorative version without drawers : it's the Designer console table Pied-Estal.
4 different finishes for the leg of the connected console table Plug&Pied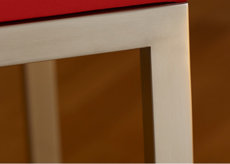 Structure in brushed stainless steel with polished invisible angles
Structure in brushed stainless steel with polished mitred angles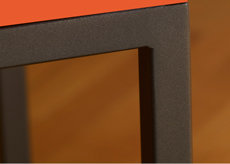 Thermolacquered structure – made in grainy black, numerous bespoke colours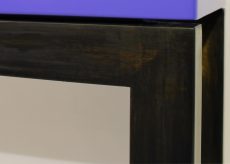 Structure in patinated steel
You are interested in this console table, contact us: