Design console table Plug&Pied mono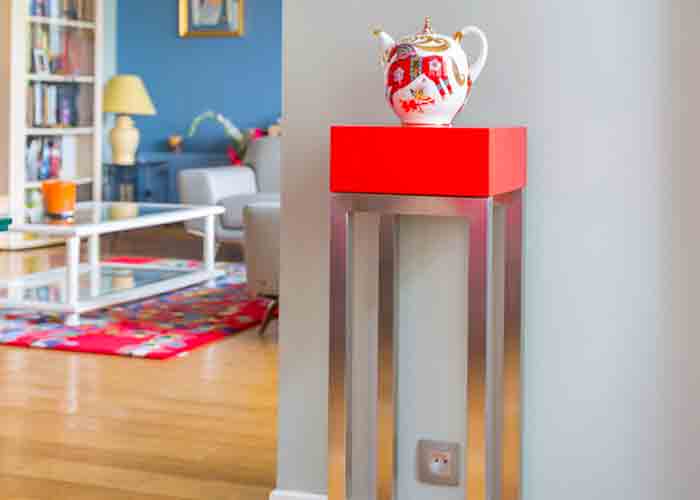 designed by
Sandrine Reverseau

The design console Plug&Pied mono has been devised to be an aesthetic piece of furniture. This little harmonious piece of furniture can be placed in wide or small spaces ! Designed in the graphic style of the collection of furnitures Les Pieds Sur La Table, the console table Plug&Pied mono is conceived with one lacquered cube on top of a high structure.
In the collection : the connected console Plug&Pied with 4 cubes (either with 3 cubes), and a pure décorative version, it's the Designer console table Pied-Estal.
The connected console table monocube Plug&Pied : custom made dimensions, materials, colours and finishes.
Dimensions L30cmP30 H88cm. deaper size of 45cm depth. Bespoke finishes and colours (see at the bottom of the page).
Electrical equipement : Compatible with all electrical standard, USB. Maximum total power 1500 watts.
Realisations : all our console tables monocube Plug&Pied are custom made, so that they all are different. See the realisations for our clients, residential, contracts and offices in "Réalisations".
Price of the console monocube Plug&Pied with one drawer and one electrical plug-in from 780€ TTC.
The connected console monocube Plug&Pied is also available in a decorative version without drawer : it's the Designer console table Pied-Estal.
4 different finishes for the leg of the console table Plug&Pied mono
Structure in brushed stainless steel with polished mitred angles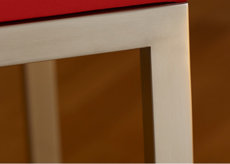 Structure in brushed stainless steel with polished invisible angles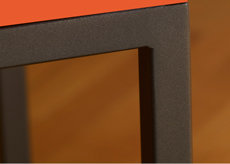 Thermolacquered structure – made in grainy black, numerous bespoke colours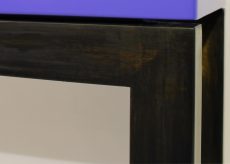 Structure in patinated steel
You are interested in this console table, contact us: